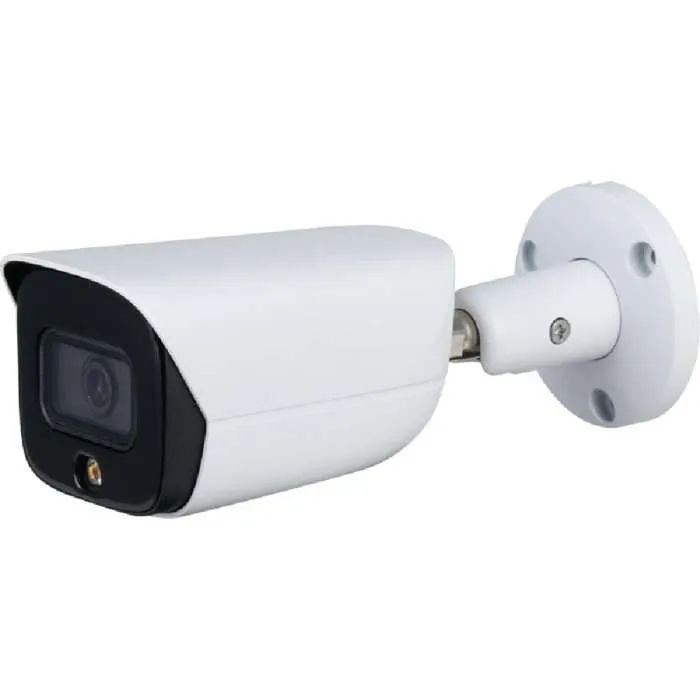 Diamond 4MP Full-color LED 2.8 Fixed Bullet IP Security Camera HNC3I149E-ASN1/28
– Housing: Bullet
– Resolution: 4MP
– Lens: 2.8mm Fixed
– Night Vision: Full Time Color, Infrared / IR, LED, Starlight
– WDR: True WDR
– Water Resistance Rating : IP67
– NDAA Compliant: No
– VCA Features: Basic VCA, Human / Vehicle Classification
– Hardware Features: Built-in Mic, Built-in Speaker, POE, SD Card
Diamond 4MP Full-color Security Camera Features
4MP, 1/2.7" CMOS image sensor, low illuminance, high image definition
Outputs maximum resolution is 4MP (2688 x 1520 pixels) at 30 frames per second.
H.265 codec, high compression rate, ultra-low bit rate
Built-in Warm LED, maximum LED distance: 30 m (98 ft),
Region of Interest (ROI), SMART H.264 /H.265, flexible coding, suitable for a wide range of bandwidth and storage situations.
Rotation mode, True WDR, 3D DNR, HLC, BLC, and digital watermarking, are all features that can be used in a variety of monitoring scenarios.
Intelligent detection: Intrusion, tripwire (support the classification and accurate detection of vehicle and human)
Abnormality detection: Motion detection, video tampering, scene changing, audio detection, no SD card, SD card full, SD card error, network disconnection, IP conflict, illegal access, voltage detection
1 alarm in, 1 alarm out; 1 audio in, 1 audio out; Micro SD card compatibility up to 256 GB; built-in microphone
12V DC/PoE power support
IP67 protection
SMD Plus (SMD+)
Full-color Starlight: Using high-performance sensors and a large aperture lens, these cameras can provide colorful images of the environment, even within low-light conditions. 24/7 color Security Cameras are a great option for areas with low light levels surpassing 1 lux, such as huge parking lots, city streets, schools, museums, and so on. Full time color Starlight Security Cameras are not capable of functioning in complete darkness.
What is Full-Color and Why does it Important?
➢ Detecting crimes such as theft, vandalism, trespassing, and other criminalities are difficult, especially during nighttime or low-light conditions.
➢ Full-Color technology from the ENS Diamond series is an effective true color solution for a wide range of applications, including commercial, educational, residential, factory, and retail settings.
➢ Full-Color Technology solves several issues:
A. Protection of people and property.
B. Human and vehicle detection that really works highly effective during nighttime or low-light situations.
C. Efficient forensic data collection through brighter monitoring.
D. False alarm reduction through AI.
Where need Full-color Security Camera?
Suitable for a Wide Range of Applications
Several Full-Color cameras are available to accommodate various lighting circumstances and requirements. The white-light LED variant provides a true-color image independent of illumination circumstances in full darkness. Non-LED variants are a wonderful option for applications with low ambient light and where the lack of additional lighting is preferred. We also provide entire form factors to meet the needs of a wide range of applications.
| | |
| --- | --- |
| Weight | 1.63 lbs |
| Dimensions | 6 × 6 × 6 in |