HNC3I149T1-IR-ZASPV || Diamond, IPC, 4MP, Bullet, SR MZ
– Housing: Bullet
– Resolution: 4MP
– Lens Category: SR MZ
– Night Vision: Full Time Color, Infrared / IR, LED, Starlight
– WDR: True WDR
– Water Resistance Rating : IP67
– NDAA Compliant: No
– VCA Features: Active Deterrence, Basic VCA, Human / Vehicle Classification
– Hardware Features: 2 Way Audio, Alarm In, Alarm Out, Audio In, Audio Out, Built-in Mic, Built-in Speaker, POE, SD Card
Current Active Deterrence Pain Points
Single Illumination Mode
At present, most products in the market only have IR light, and do not generate full-color image at night. Using white light at night can increase light pollution.
Limited Pickup Performance
Too much background noise causes interference; short pickup distance and limited mic function.
Poor Image Quality Under Low Illumination
Limited by hardware specifications, resulting to poor image quality at night.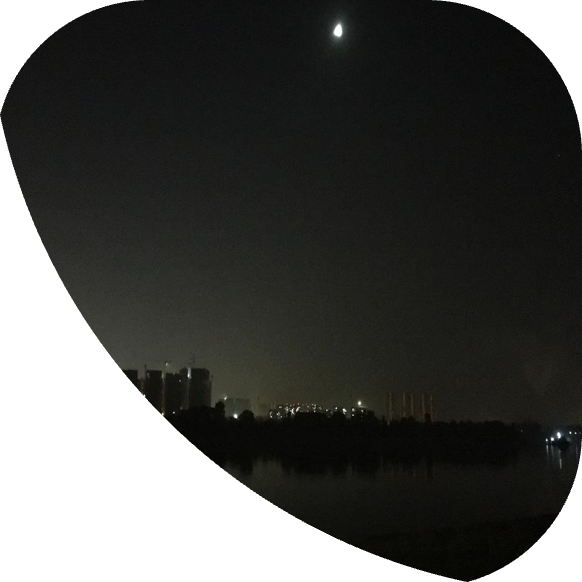 Complicated Integration with Alarm System
It's complicated to integrate with current alarm systems, which can affect user experience.
Vari-Focal Network Camera
4/8MP 1/2.8" progressive CMOS
Min. Illumination: [email protected]
Focal Length: 2.7mm-13.5mm
Max. Illumination Distance: 50m
Built-in Dual Mics & Speaker to realize two-way talk
25/30 FPS real-time monitoring
120 dB WDR
Features >>
Web 5.0 New UI, New Experience: Support Setting the Detection Area for the White Light
(White light won't turn on when there is a target outside of the detection area, suited for Roadside , Backyard)
Application Scenarios
Detection Area for White Light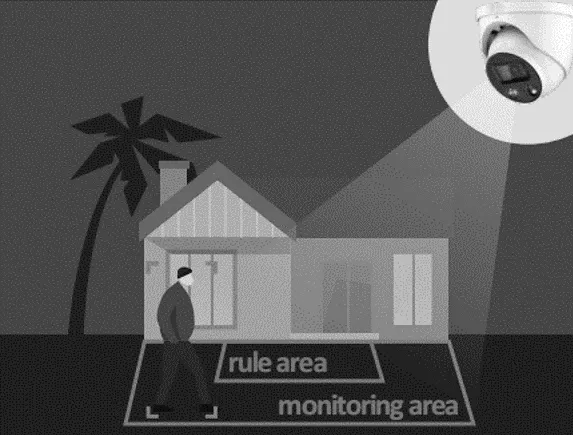 If the user sets the detection area for the white light, the white light won't turn on when there's is a target outside of the detection area, even if the target enters the monitoring area.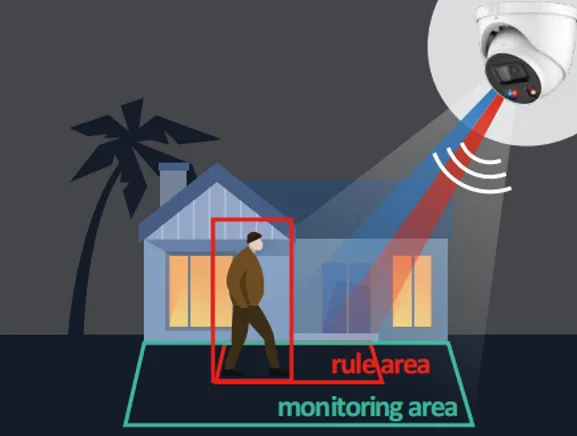 The white light turns on when the target enters the detection area. The alarm will focus on the designated area of interest, and is very effective for various solutions applications such as roadside, walk-way, or backyard.
Smart Dual Illuminators
Easily switch between Full-Color and IR mode
01
VoiceCatcher Technology
Greater pick-up distance range; less noise
02
Better Image
Brighter & clearer IR Image
03
Eco-System
Easily integrates with alarm systems
04
AI Features
SMD 3.0 Perimeter Protection
05
Smart Dual Illuminators: The Most Comprehensive Illumination Method
Smart Dual Illuminators
Easily switch between full-color and IR mode
Smart Illumination Mode(default):  Switch between IR Mode and white light when target is detected.
IR Mode: Only IR illuminator is ON. It is suitable for scenes where supplementary white light is not required, thus reducing light pollution.
Warm Light Mode: Only the white light is ON. It is suitable for scenes that require color video footages.
Smart Illumination Mode: Switch Illuminators through AI:
Smart Illumination Mode Adopts a Deep Learning Algorithm to Detect Targets.
1
IR illuminator is on at night.
2
White light turns on when a target appears to record full-color images.
3
Siren and light turns on (Active Deterrence) to warn the target.
4
When the target disappears, white light turns off (PTZ back to preset), and IR illuminator turns back on.

Better Image: New Low-Light Image Experience
IR cameras on the market mostly have F1.6 aperture. ENS adopts F1.0 super large aperture which greatly improves the image quality.
IR Image with F1.6 Aperture
IR Image with F1.0 Aperture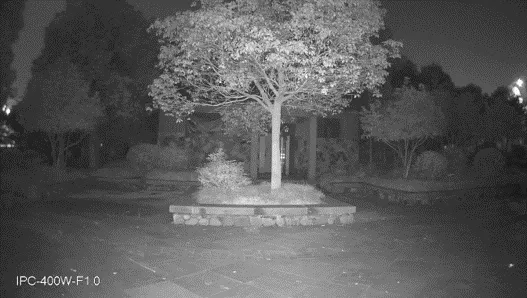 Compared to the F1.6 Aperture, F1.0 Aperture presents a more detailed image: 1.The whole image is sharper and brighter. 2.Edge details are clearer.
Ecosystem: Arming/Disarming Through Alarm-in Port
The Active Deterrence 2.0 camera can be connected to traditional alarm systems. It offers one-tap arming/disarming through the alarm-in port. It allows usage of existing systems for alarm linkage and control, providing a better user experience.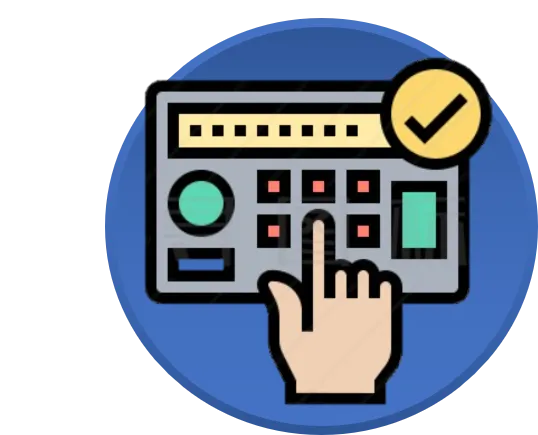 Option 1: Arming/Disarming through an alarm button, which is connected with the camera's alarm-in port.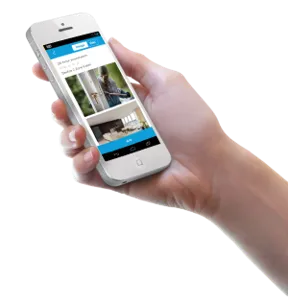 Option 2: Arming/Disarming via the DMSS
AI Features: SMD 3.0
With the continuous in-depth application of SMD in the industry and constant optimization based on actual scenarios, we proudly launched SMD 3.0. Compared with SMD Plus, this new version offers more optimized features:
Through the upgrading of its AI capacities, false alarms caused by animals, leaves, lights, etc. are significantly reduced.
Longer Detection Distance
By constantly improving its AI capacities, the detection range of the same device has increased by as much as 50%.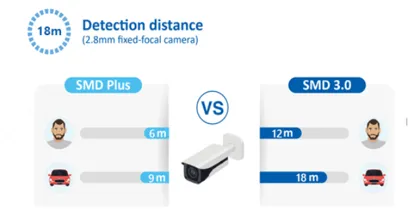 Higher Detection Accuracy
Through the upgrading of its AI, the maximum detection accuracy for human and vehicle targets can reach up to 99%.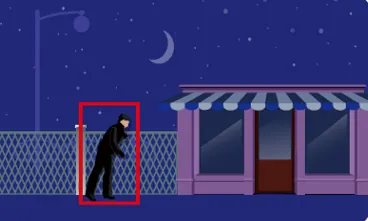 AI Features: Perimeter Protection
Powered by deep learning algorithm, ENS' Perimeter Protection technology can accurately recognize human and vehicle targets. In restricted areas (e.g. pedestrian area and vehicle area), false alarms in intelligent detection based on target type (e.g. tripwire, intrusion) are greatly reduced.
Accurate Detection False alarm rate: < 1%
Target Classification Focuses on human and vehicle
Quick Target Search Target search efficiency: ↑ 98%
Remote Monitoring Alarm push notification sending time: <1s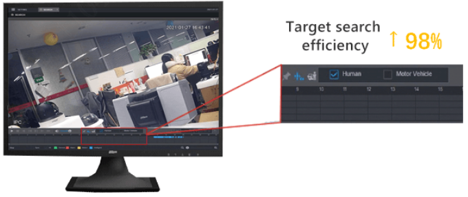 Sound and Light Alarm:
Effectively deter home or business break-ins
Red and Blue flashing light, scaring off intruders
Trigger both sound and light for advanced perimeter protection and immediate crime prevention
Perimeter Protection:
Enhanced Perimeter Protection using active deterrence technology
Theft Prevention
Efficient Forensic Data
Advanced VCA with instant notification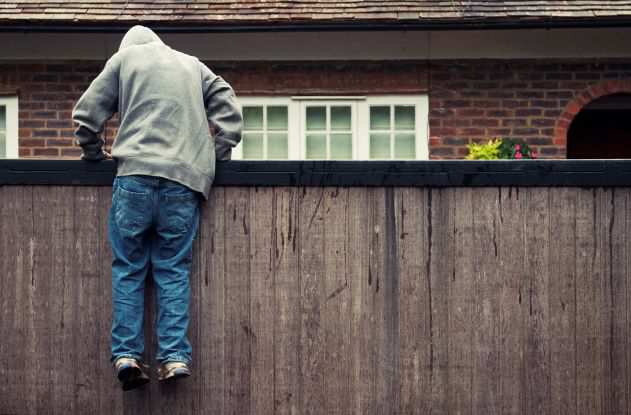 Tripwire/Intrusion Detection:
Home Entrance and Exit Protection
Asset Theft and Vandalism Prevention
Clear Vivid Images and intruder deterrence
Home or Business Perimeter Protection
Limited Perimeter Protection:
Home Entrance and Exit Protection
Deter asset theft and vandalism with active deterrence
Clear vivid images and intruder deterrence
Home or business Perimeter Protection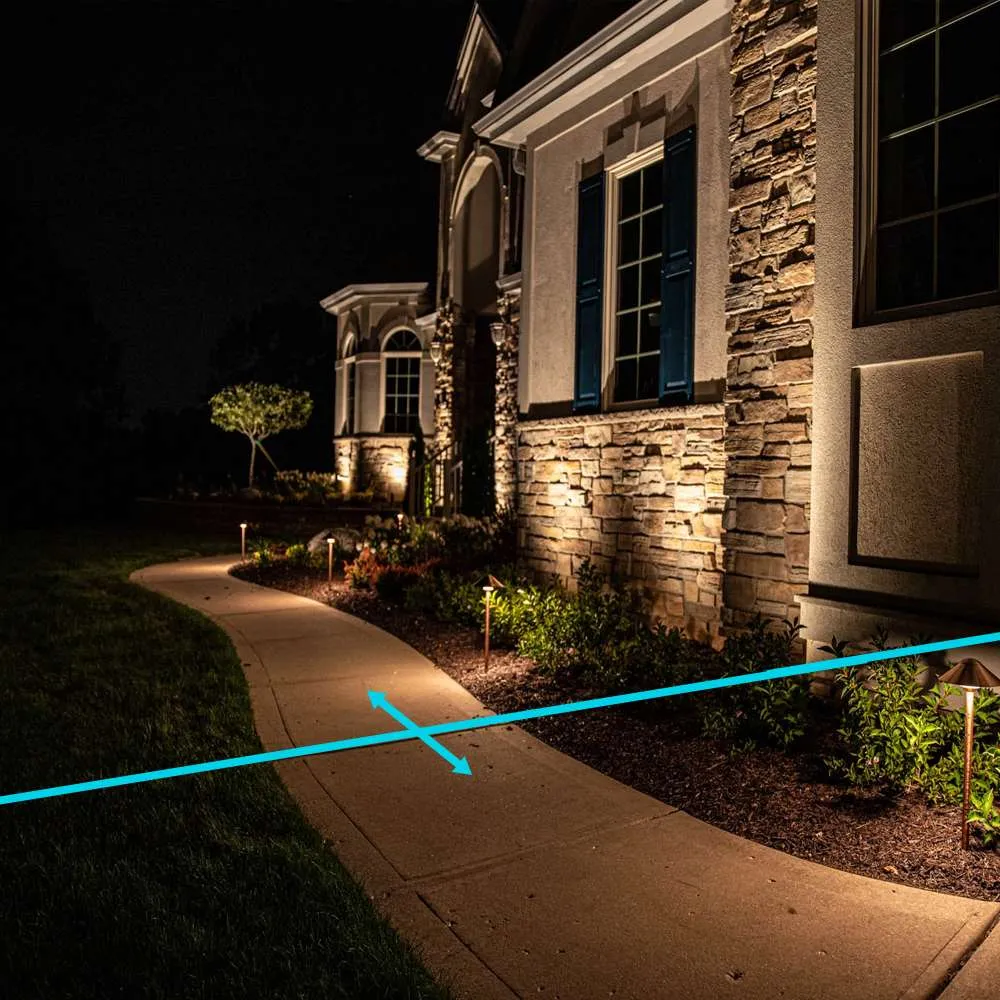 Human and Vehicle Classification:
Focus on Human and Vehicle Classification
Actively detect in real-time loitering and vandalism in various scenarios such as parks, cemeteries, school facilities, and gated communities.
Accurately detect human or vehicle, effectively reducing false alarms.
Built-In Microphone and Speaker
Enhanced 2-way communication, allowing you to listen and speak to visitors or intruders
Deter criminalities by warning intruders in real-time
SMD Plus:
Reduce false alarm notifications with a 98% human and vehicle detection accuracy rate
Provides real-time alarm prompt and real-time protection
Effective monitoring with advanced detection technology provides safety and security for all
Intelligent Detection:
Perimeter Protection and SMD Plus Technology
Intrusion, Tripwire, and Line Crossing Technology
Human and Vehicle Classification Technology
APPLICATION SCENARIOS
As the challenges have evolved, so to have the solutions. ENS Diamond Series security cameras provide advanced SMD Plus with Active Deterrence technology to help combat and solve your challenges! These Include:
Entrance and Exit Monitoring / Home Security
Whether it be entrance/exit, side entrance, backyard, or driveway monitoring, our full-color security cameras provide clear visibility and excellent video quality both day and night for effective home security.
Using advanced full color technology, coupled with white light LED and other enhanced features, our Full-Color Security Cameras bring light to the dark, deterring theft, vandalism and other criminalities.
SMB Loss Prevention and Asset Protection
24/7 monitoring with advanced VCA functions provides enhanced safety and security for not only business assets, but also customer, patron, and employee safety.
Enhanced full color features provide vivid images and an effective monitoring solution, improving detail for appropriate forensic analysis regarding incidents such as "dumpster diving"
Commercial Property and Tenant Protection
Utilize advanced SMD Plus, reducing false alarms and providing real-time alarms, allowing for efficient protection of tenants and property.
Provide basic safety and security with Diamond Series security cameras, or advanced protection with human and vehicle classification in order to detect real threats in real-time, preventing vandalism, theft, and other criminalities.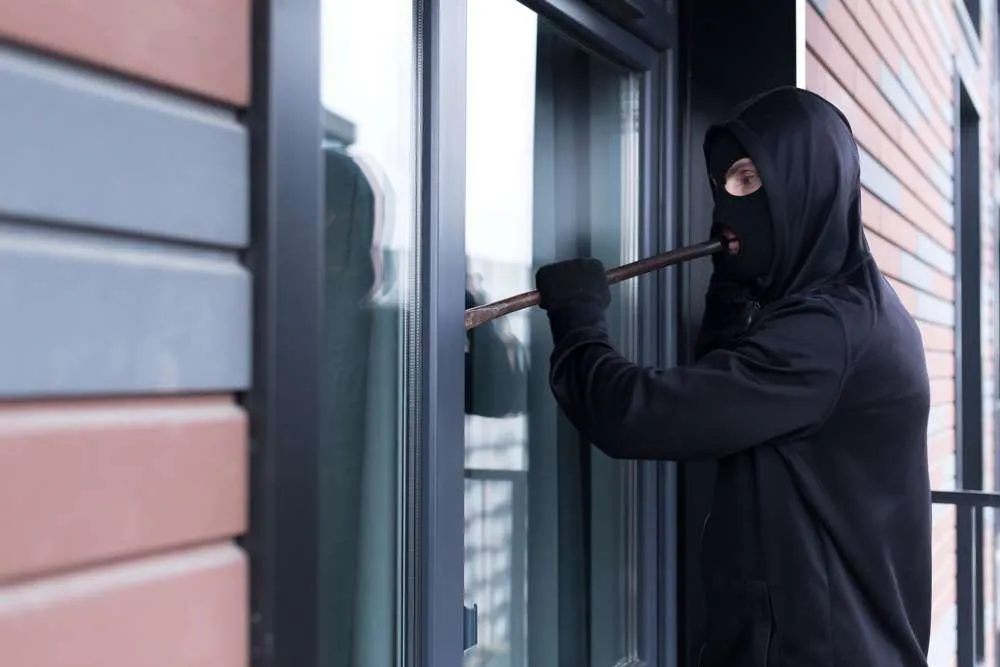 4-MP 1/2.8″ CMOS image sensor, low luminance, and high definition image
Outputs max. 4MP (2688 × 1520)@25/30 fps.H.265 codec, high compression rate, ultra-low bit rate
Built-in warm light/IR LED, the max. illumination distance is 50 m and the max. warm light distance is 40 m
ROI, SMART H.264+/H.265+, flexible coding, applicable to Rotation mode, WDR, 3D NR, HLC, BLC, digital watermarking, applicable to various monitoring scenes
Intelligent monitoring: Intrusion, tripwire (the two functions support the classification and accurate detection of vehicle and human)
Alarm: 1 in, 1 out; audio: 1 in, 1 out; supports max. 256 G
Micro SD card; buit-in dual mics; 1-ch speaker.
12 V DC/PoE power supply, easy for installation
IP67 protection
Smart Motion Detection Plus (SMD 3.0)
| | |
| --- | --- |
| Weight | 3 lbs |
| Dimensions | 6 × 6 × 6 in |