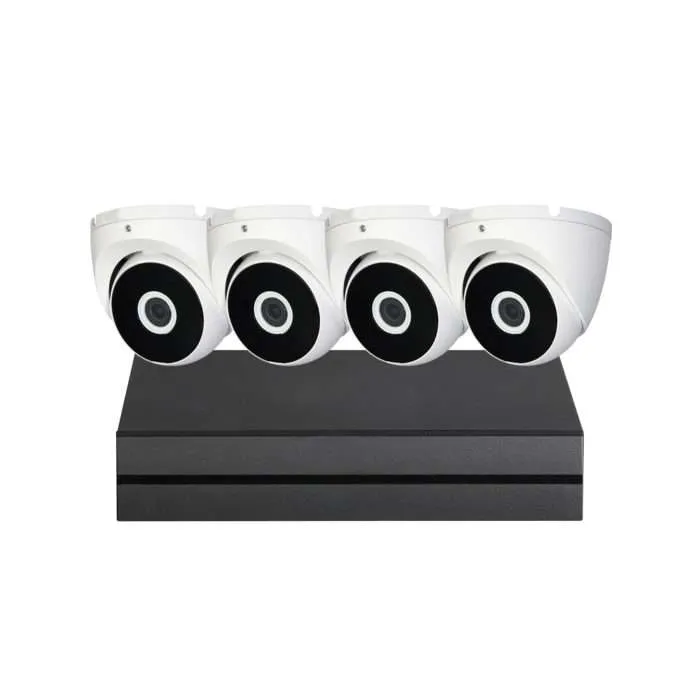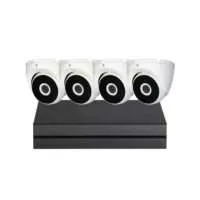 EDK840-S2 || Diamond, DVR, 2MP, 8CH, 1X SATA PORT
– Max Recording Resolution: 2MP
– Channels: 8CH
– LAN Ports: 1
– SATA: 1X SATA PORT
– Video Outputs: HDMI / VGA
– NDAA Compliant: No
– Hardware Features:
That is a Cooper Series Coaxial Kit Including one DVR and 4 Security Cameras.  It is vary convenient package, it is suitable for simple families, small shops, whether indoor or outdoor. also easy to install and download APP in cellphone or table tape to view.
The Cooper Series Coaxial Kit DVR, has some Functions, for example:
Smart Motion Detection Plus
That is a upgraded version of SMD, greatly improves the accuracy of alarms by loading deep learning algorithms. It analyzes the shape of people and vehicles based on motion detection, and only issues an alarm when people and vehicles intrude.
AI-Coding
It supports all channels. Commonly AI Coding and H.265 both good, Coupled with AI Coding the bit rate and storage can be reduce up to 50%, and will be not decoding compatibility losing. and provide clear human and vehicle details as well as.
The Cooper Series Coaxial Kit camera , has some Functions, for example:
Smart IR
The camera very sensitive and can work in bright even dark or no light places because it with Smart infrared. IR Distance Up to 20m (66feet) and can be Auto or Manual to control IR on or off.
This camera design uses microcrystalline LED infrared illumination to achieve the best low-light performance. Smart IR is a technology that ensures the brightness uniformity of black and white images under low illumination. Smart IR will adjust according to the intensity of the camera's infrared LED to compensate for the distance of the object and prevent the IR LED from overexposing the image when the object is close to the camera.
IP67
This camera protected is good, against water and dust with IP67 ranking,  so totally protected also Protected against the effects of temporary immersion between 15cm and 1m. Duration of test 30 minute against dust.
Cooper Series DVR Features
 H.265 /H.265 dual-stream video compression
 Supports Full-channel AI-Coding
 Supports HDCVI/AHD/TVI/CVBS/IP video inputs
 Max 12 channels IP camera inputs, each channel up to 6MP; Max 48 Mbps incoming bandwidth
 Supports 1 SATA HDD, up to 6TB
 Up to 8 channels video stream ( analog channel ) SMD Plus
Cooper Series Security Cameras Features
Max. 30fps@1080P
HD and SD output switchable
2.8mm fixed lens
Max. IR length (night vision)20m (66feet), Smart IR,
IP67, DC12V.
Detect
Observe
Recognize
Identify
DORI Definition
25px/m
(8px/ft)
63px/m
(19px/ft)
125px/m
(38px/ft)
250ppm
(76px/ft)
Distance
2.8mm: 37m(121ft)
3.6mm: 51m(167ft)
6mm: 80m(262ft)
2.8mm: 15m(49ft)
3.6mm: 20m(66ft)
6mm: 32m(105ft)
2.8mm: 8m(26ft)
3.6mm: 10m(33ft)
6mm: 16m(51ft)
2.8mm: 4m(14ft)
3.6mm: 5m(17ft)
6mm: 8m(26ft)
| | |
| --- | --- |
| Weight | 12.46 lbs |
| Dimensions | 6 × 6 × 6 in |