HCC3I159TH-IRAPV/28 || Diamond, COAX, 5MP, Bullet, 2.8mm Fixed
– Housing: Bullet
– Resolution: 5MP
– Signal: CVI/TVI/CVBS/AHD
– Lens Category: 2.8mm Fixed
– Night Vision: Infrared / IR, LED
– WDR: True WDR
– Water Resistance Rating : IP67
– NDAA Compliant: No
– Hardware Features: Alarm Out, Built-in Mic





New Three-In-One Technology
With the foundation of TiOC (Three-in-one Camera, the new TiOC 2.0 achieves a variety of improvements, such as Smart Dual Illuminators, intelligent voice alarm, and high image performance. These features offer efficient operation and better user experience
Smart Illumination Mode (Default)
Switch between IR Mode and white light when target is detected.
White Light Mode (Optional)
Only the white light is ON. It is suitable for scenes that require color video footages.
IR Mode (Optional)
Only IR illuminator is ON. It is suitable for scenes where supplementary white light is not required, thus reducing light pollution.
Supplementary white light triggered when target detected by AI XVR in the monitoring area.
Active Alarm triggered when the target enters the rule area.
When the monitoring area is unoccupied, the supplementary white light turns off, IR illuminators turn on, significantly helping to reduce light pollution.
Smart Exposure Technology assists cameras to realize time sharing control of images captured and red/blue light flashing by the CMOS Image sensor.
No interference from red/blue light on image, providing users with better image quality and performance.
Accurate Detection
TiOC 2.0 offers accurate alarm functionality by precisely targeting people and vehicles, while filtering out non-target objects such as animals, leaves, and car headlights. This new technology keeps false alarm rates under 2% using powerful AI algorithms. Leveraging or Diamond Series AI XVR, it also delivers a quicker, more accurate range for motion detection.
Real 5MP
Real 5MP security cameras can better fit common HD displays and achieve undistorted images. Real 5MP security cameras support 5MP @ 25 frames per second real-time output, offering a more fluent visual experience.
Previous 5MP 4:3
–  4:3 output, image distortion
–  Image quality and detail loss
–  4MP@20fps, non-real time
Previous 5MP 4:3
–  16:9 output, original image
–  Superior clarity and details
–  5MP@25fps, real-time
Performance – Super Adapt Technology
Super Adapt Technology accurately recognizes if a monitored scene is indoors, outdoors, or under wide dynamic range, and automatically adjusts the image settings to provide users with an optimized image performance in various surveillance scenarios.
Performance – Superior Clarity
The new TiOC 2.0 security camera has adopted an advanced chipset, presenting clearer and brighter images with richer details, even in low-light environments.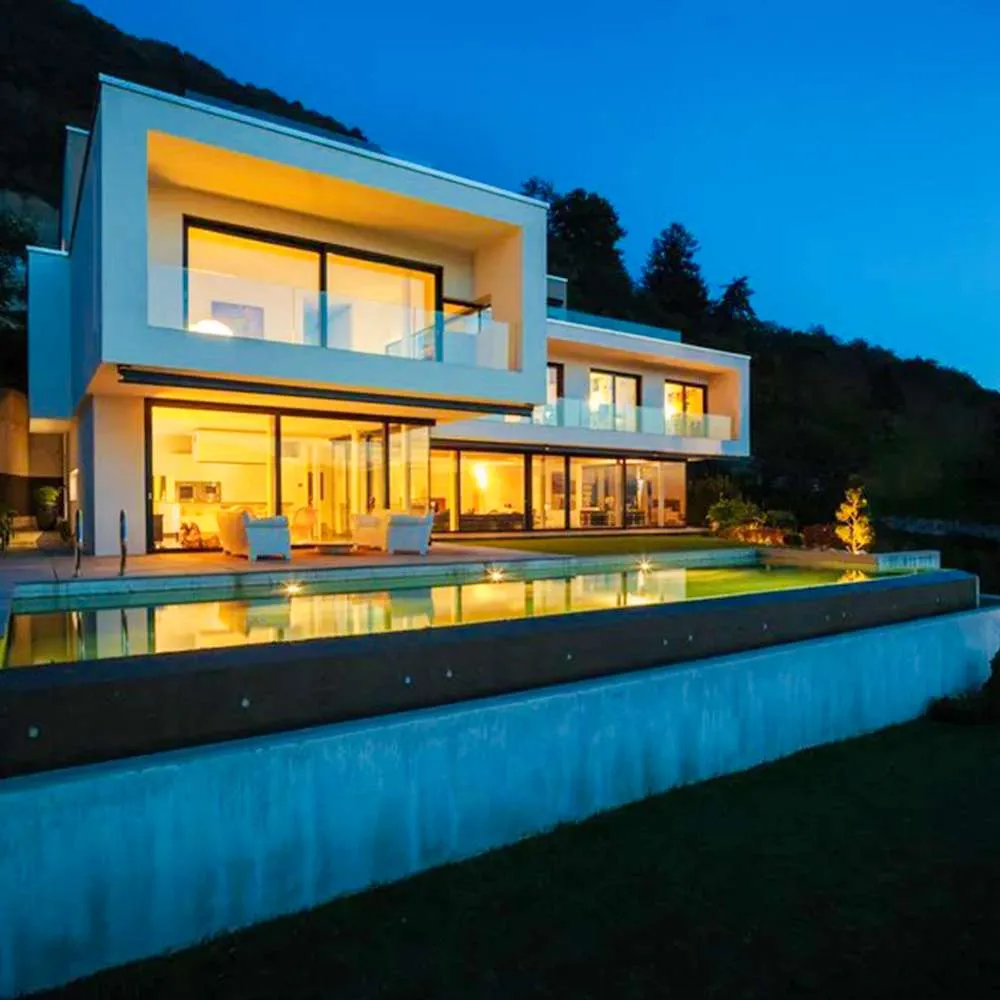 Perimeter Protection
Home Entrance and Exit Protection
Deter Asset Theft and Vandalism
Clear Images Both Day and Night
Home or Business Perimeter Protection
24/7 Monitoring
Effective Business Asset Protection
Efficient Home Security Day and Night
Ensure Safety and Security in Workplace
Protect restaurants patrons and employees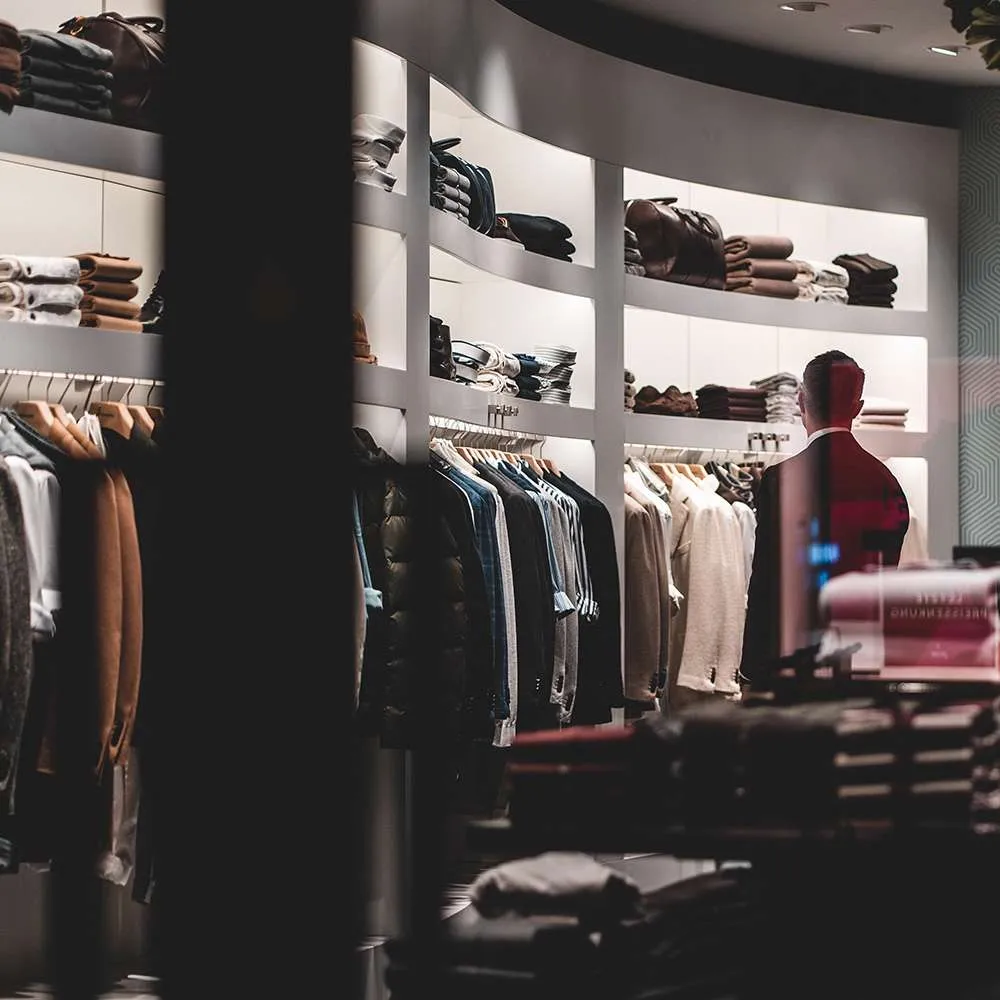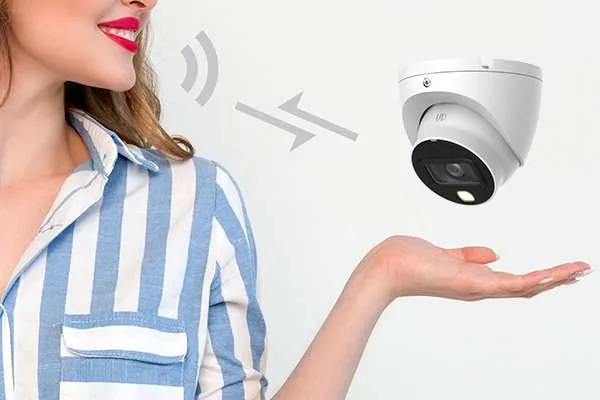 Built-in Mic and Speaker
Enhanced 2-way communication, allowing you to listen in on visitors or intruders
Capture crystal clear important forensic audio
Active Deterrence
Actively deter trespassing on any property, whether home, business, or commercial
Efficient prevention of vandalism, effectively preventing property damage
Greatly reduce theft of property such as packages both day and night with alarm notification
APPLICATION SCENARIOS
As the challenges have evolved, so to have the solutions. ENS Diamond Series REAL 5MP coax security cameras provide broad area surveillance to help combat and solve your challenges! These Include:
Entrance and Exit Monitoring / Home Security
Whether it be entrance/exit, side entrance, backyard, or driveway monitoring, our Diamond Series REAL 5MP coax security cameras provide clear visibility and excellent perimeter protection both day and night for effective home security.
Using advanced Video Content Analytics, coupled with REAL 5MP technology, and other enhanced features, our Diamond Series Coax Security Cameras push our perimeter protection solutions to the next level, deterring theft, vandalism and other criminalities.
SMB Loss Prevention and Asset Protection
24/7 monitoring provides enhanced safety and security for not only business assets, but also customer, patron, and employee safety.
Cutting edge REAL 5MP Coax Security Camera technology and Perimeter Protection features provide vivid images and an effective monitoring solution, improving video detail, reducing false alarms, and providing immediate alarm notification for prompt real-time responses.
Commercial Property and Tenant Protection
Utilize essential security and REAL 5MP Coax Technology, providing 24/7 monitoring, day and night, allowing for efficient protection of tenants and property.
Provide effective safety and security with Diamond Series REAL 5MP Coax security cameras, in order to detect real threats in real-time, prevent vandalism, theft, and other criminalities.
· Max 25 fps@5 MP (16:9 video output).
· 120 dB true WDR, 3D NR.
· Smart Dual Illuminators.
· Protection Against Red-Blue Light Interference.
· Active deterrence with red blue light, siren and alarm out interface.
· 40 m illumination distance.
· Super Adapt.
· Built-in MIC.
· 3.6 mm fixed lens (2.8 mm optional).
· CVI/CVBS/AHD/TVI switchable.
· IP67, 12 VDC.
| | |
| --- | --- |
| Weight | 1.58 lbs |
| Dimensions | 6 × 6 × 6 in |