Quick Service Restaurants
Ensuring Safety and Profits in Today's Evolving Food Service Industry
Technological Solutions for QSR Challenges
Franchise owners encounter distinctive and escalating challenges. Mobile access has revolutionized customer shopping habits, creating an expectation for prompt service, the Quick Service Restaurant industry is no exception. Delivering accurate orders swiftly, while maintaining quality is paramount for customer satisfaction.
ENS Security solutions offer a means to enhance internal record-keeping and monitor employee activities across multiple locations simultaneously, including drive-thru's and kitchen areas. This ensures operational efficiency, safety, and attentive customer service.
By utilizing ENS Security technology, franchise owners can reinforce safety and security measures, effectively manage liabilities, and optimize operations to safeguard employees, patrons, and in some cases financial stability.
Centralized Management Systems:
QSR Industry Video Surveillance Solutions
ENS offers a range of solutions to help franchise owners optimize profits, deliver superior customer service, and manage safety and security. Central management software allows for enterprise-wide store management from a centralized location. This scalable system can support advanced analytics like human and vehicle detection, people counting, facial recognition, and point-of-sale integration.
CMS Software: Capable of managing video across multiple store locations
Customer Heat Mapping: Marketing optimization indicated by high traffic areas
Line Queueing: Provides data for customer wait times, optimizing staff levels, and ensuring a high level of customer service
People Counting: Data which is used for identifying peak service times, helping manage proper labor allocation, and allowing for possible upsell opportunities.
Point-of-Sale Integration: Integrate in-store video with POS data for transaction verification and prevention of costly customer exceptions
Facial Recognition: Accurate facial recognition identifies criminals, trespassers, and shoplifters while providing frictionless access for employees.
Human/Vehicle Detection: By eliminating non-human motion sources, the system delivers highly precise alerts specifically for humans or vehicles, depending on the configured settings.
Broad Area Surveillance Applications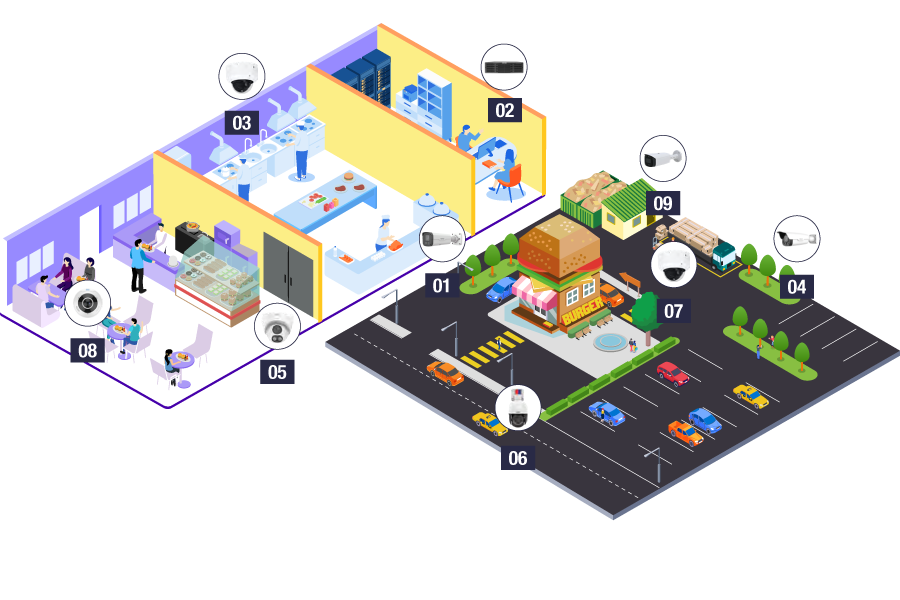 01 | Restaurant Entrances/Exits
4K technology allows for clear visibility and excellent video quality, even in the most extreme contrast conditions.
02 | Server and Cash Room
Full-Color cameras with 4K technologies monitor highly sensitive areas. Access control can restrict access to servers, cash rooms, and other restricted high risk areas.
03 | Food Prep Area
Stainless steel cameras and compact domes are suitable for diverse conditions in kitchen and food storage areas. Low-cost thermal cameras detect temperature changes and issue alerts for potential hazards and asset threats.
04 | Stock Rooms/Loading Dock
High resolution 4K cameras, coupled with cutting-edge analytics provides traceability for shipments/stock remotely through your mobile device.
05 | Corridor Views
Covert cameras allow for the capture of human activity through discreet surveillance coverage.
06 | Parking Areas
Active Deterrence, Full-Color, and Multi-Sensor cameras provide broad area surveillance to cover entire parking lots. Providing superior video images with 4K technology, wide area coverage with fewer cameras, deterring theft, and reducing your liability for slip and fall litigation.
07 | Drive-Thru
4K technology provides vivid video images in the most extreme conditions.
08 | Dining Area
Fisheye cameras with high megapixel resolution offer expansive and inexpensive surveillance coverage for open floor plans.
09 | Alleyway/ Dumpster Areas
Full-Color technology provides efficient forensic data, even in the harshest low-light environments and accurate human/vehicle detection, deterring employee theft and dumpster diving incidents.
Feature Product Technology
Business Intelligence Technology
People Counting, Heat Mapping, Line Queuing, Face Mask and Face Detection; ENS provides solutions with advanced retail centric analytics; allowing businesses to develop efficient staffing metrics to march peak service hours, identify high traffic areas for marketing optimization, and point-of-sale integration to provide valuable business data for substantial ROI.
EM-IPCE2B5-X10-LPR
Advanced License Plate Recognition technology
Efficient Perimeter Protection
Monitor customer traffic
HNC7I4120-IRAS-S2
Understand customer flow and store rush hours with People Counting Technology
Use people counting analytics for efficient employee management
Leverage heat mapping for effective product placement
Full-Color at Night Technology
ENS Full-Color at night technology provides effective true color solutions; detecting theft, vandalism, and other criminalities with enhanced image detail in extreme no light or low-light conditions for parking lots and/or alley-ways.
EM-IPCV8T3-F28-FC-M-AI
8MP 4K Full-Color turret
24 hour Full-Color images with built-in mic
IP67 protection
EM-IPCP8B3-F40-FC-AI
8MP 4K Full-Color bullet
24 hour Full-Color images with built-in mic
IK10 and IP67 vandal resistant
HNC3I349H-IRASPV/28-S4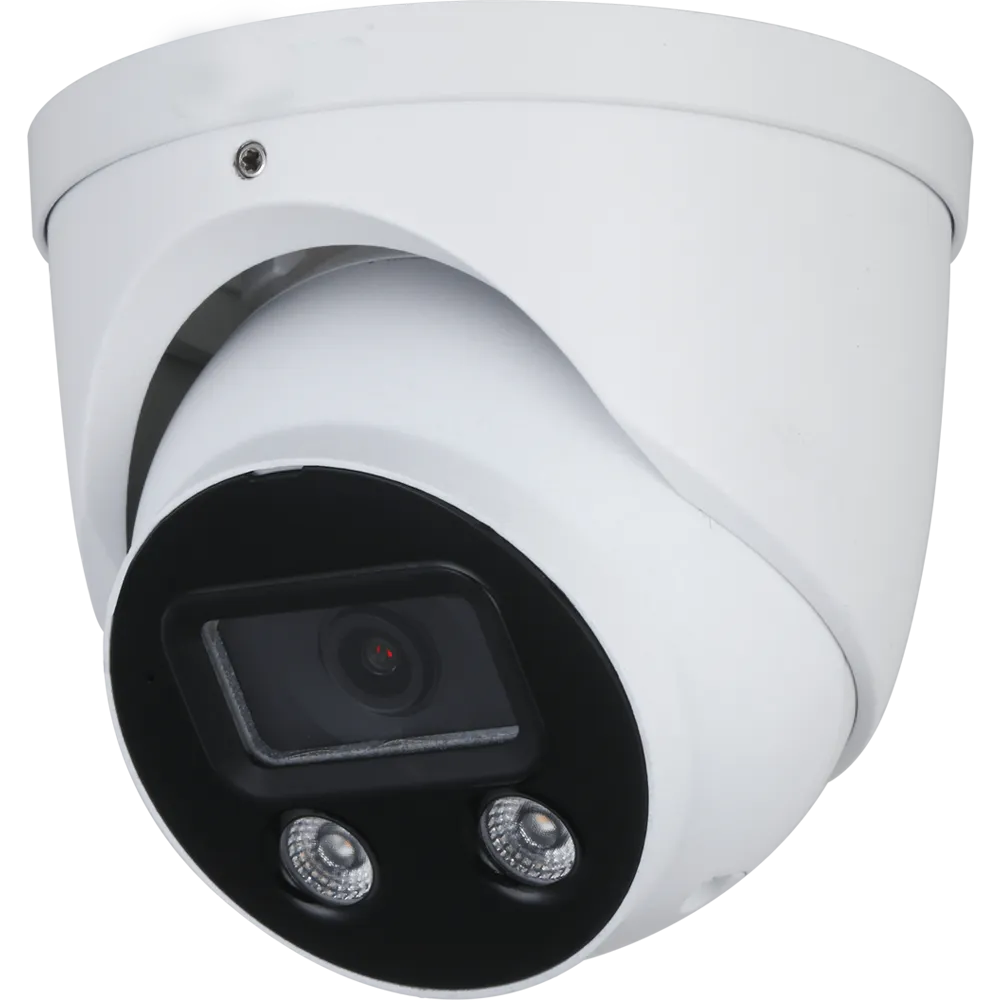 4MP turret with built-in mic and speaker
Smart Motion Detection Plus with red & blue flash alarm
Siren and light Active Deterrence
Active Deterrence Technology
Safeguard your property and assets with advanced perimeter protection combined with active deterrence technology. Receive information and alerts and verify potential risks in real time. Utilize advanced deterrent features such as siren and light alarm, red and blue flashing lights, audio warnings, and Full-Color at night to actively warn off intruders.
EM-IPCP8B3-F28-AD-AI
4K Active Deterrence bullet camera with clear, vivid images
Warn off intruders in real-time with built-in mic and speaker technology
HNC3I189T1-ASPV/28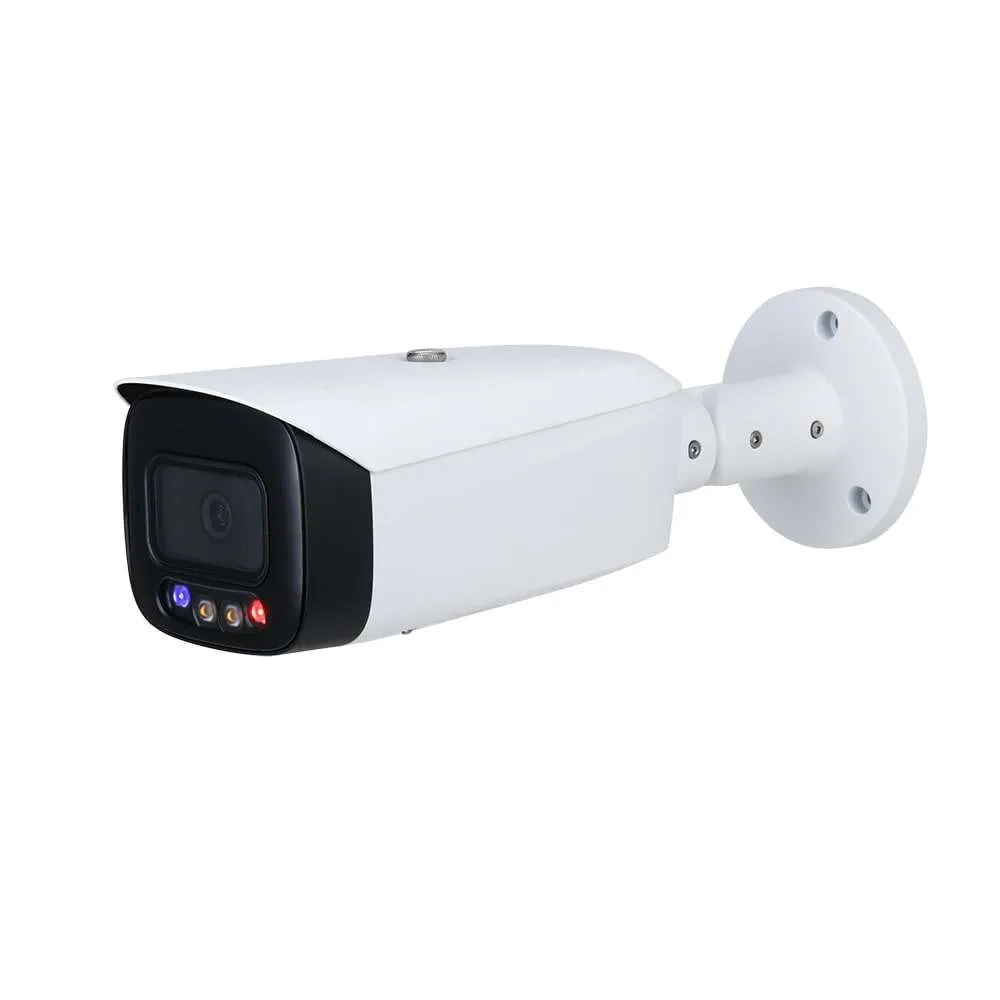 4K fixed bullet at 30 fps
White Light LED |98 ft| with built-in mic and speaker
Smart Motion Detection Plus with red and blue flash alarm
Siren and light Active Deterrence

Innovation That Fits Your Budget
Industry forerunner in providing reliable and cutting edge technology; providing top quality, innovative products at value pricing that fulfills the needs of our patrons. Allowing cannabis facilities to utilize superior technology and never exceed budget.

Customer Commitment
With top quality products also comes the ENS commitment. ENS Security builds strong, trusting relationships as we utilize a customer first approach, providing best-in class service and tech support six days a week.
For Professionals, by Professionals
ENS Security upholds a strong employee/client partnership, as we engage in strategic, collaboration with all our customer; optimizing business performance. At ENS Security, your success is our success!

Teamwork Is Our Culture
As a distributor with over 5 manufacturers and 10 different locations across the United States; our company culture has never been more true. The partnerships we've built with our manufacturers; and the relationships we've forged with customers has created the "ENS Family".